Auction of Promises 2009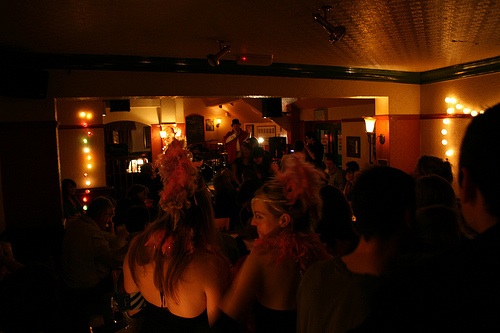 On the night of Wednesday 28th January, the Swansea-Gambia Link held its largest fundraising event of the year with the second annual 'Auction of Promises'.
The Cricketers' had been transformed for the evening from a local Swansea pub into an all singing, all dancing, cabaret themed auction room to host the occasion. The entire event was a great success with over £3000 being pledged towards the link and a night of live music and dancing (provided by our very own Swansea medical students) being enjoyed by all.
The highlight of the evening's entertainment belonged to the five piece act of Henry Boyle, Robby Green, Ben Woodman-Smith, Sebastian Tindall and Tomos Watkin who performed with choreographed precision Girls' Aloud, 'The Promise'. Truly quite something to behold, perhaps not if you were to be a future patient of one of theirs though!
There was an overwhelmingly generous response from both staff and students when it came to offering promises, with over 50 on the programme for the evening. There was great variety in the promises (far too many to name here) however they ranged from simple delights such as Megan Turner's 'deeply delicious chocolate cake' (food was a somewhat recurring theme!), to bikini car washes, through to £1000 worth of gym membership (four full adult memberships for one year) from Leighton Hutton-Davies (Jo Bishop's husband) at his gym.
Thankfully with so many great promises at stake, most people were enjoying the charitable nature of the auction (with a little encouragement from our auctioneer, Rick O'Shea), and placing down bids on each of the lots, with several drawing in over £100.
The highest earner of the evening being 'Hill, Thrill and Grill' with Jonathan Mullins, which went under the hammer for £250 with a group of Cambrian mountain enthusiasts, only realising later that they had been bidding against each other despite being in the same group!
With the three Gambian students arriving at the end of the February, the success of the evening has really ensured that we can fully fund this visit, and also raised the possibility of strengthening the link in other ways. The whole Swansea-Gambia Link team would like to thank everyone involved with the Auction, which made it the success that it was.
Pencil into your diaries the 20th February through to the 3rd March, as this is when the Gambian students will be in Swansea. There will be a lot of activities going on through that period, so please come along, say hello and see how this money is and will go on to be used.